Gamifying the digital survey experience
Highwire's client, a business intelligence company, was missing out on an opportunity to establish relationships with potential customers. They had developed a Digital Transformation survey, designed to provide companies with insight into how well-equipped they were to modernize workflows. But they weren't collecting any contact information to further engage with these prospective clients.
Highwire tasked me with converting the digital survey into an effective lead generation asset.
The Challenge
The original customer survey consisted of a scrolling webpage of multiple choice questions delivered via a generic survey provider platform. Upon completion, respondents received a PDF with a "Digital Transformation Score" summarizing their current efforts.
But the promise of a vague score didn't justify the time and effort required to complete the experience, let alone would it convince users to part with personal information. To identify an additional layer of value to offer, we needed to understand what motivated our target audience of Digital Transformation-minded CIOs, CTOs, and COOs.
---
The Opportunity
Research exposed a key concern for our client's target demographic: Falling behind the competition.
To connect with this concern, I proposed a new value proposition: take this survey and we won't just give you a Digital Transformation score, we'll give you quantitative insight into how you compare to your competitors.
In exchange for their name and company email, users would now get a clear picture of where their Digital Transformation efforts stood in the context of their industry, in the form of concrete figures they could share with internal stakeholders.
---
User Experience Design
I sketched a plan for a 10-question assessment tool that converted the dense survey format into a simple quiz-like web experience.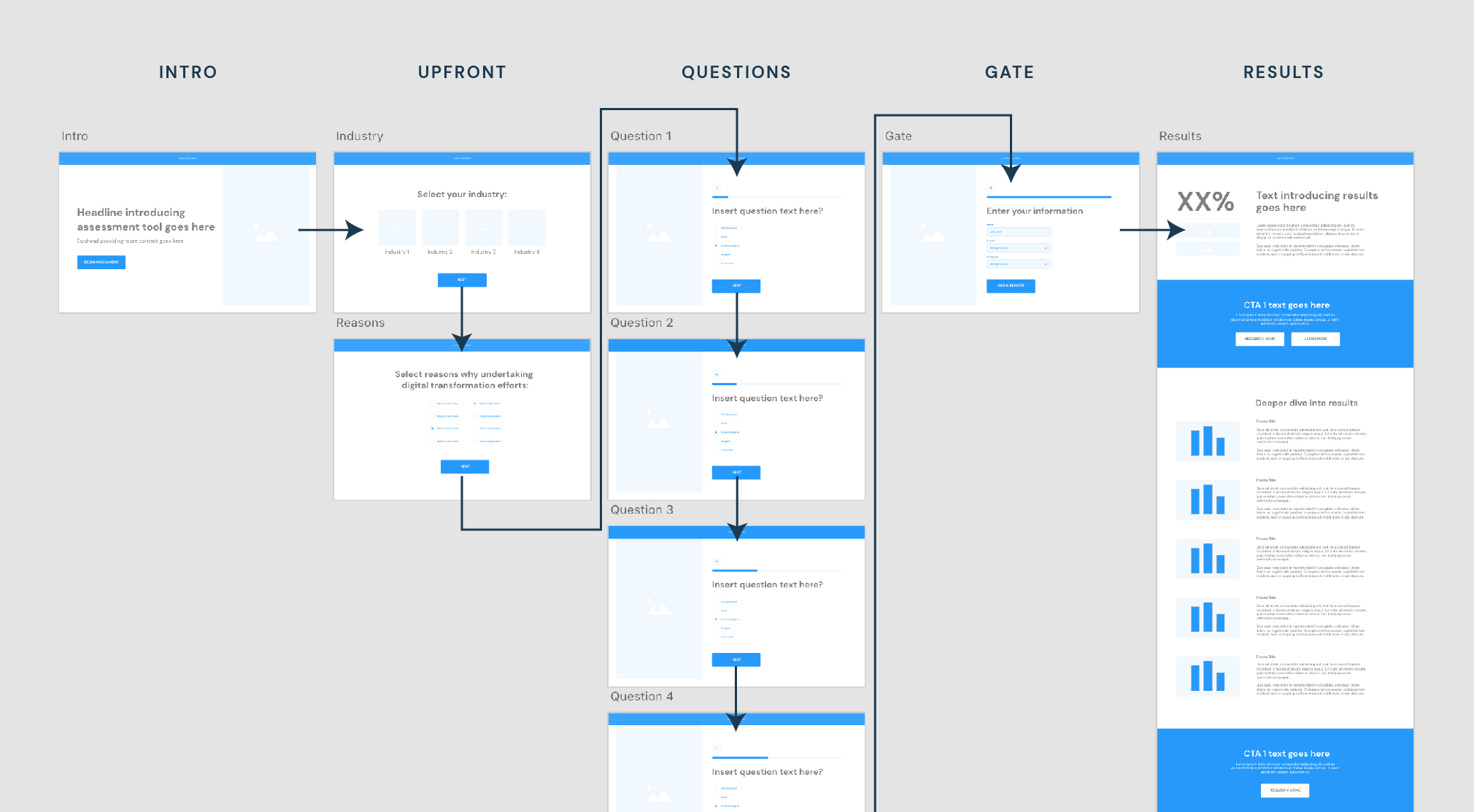 The design direction focused on addressing five key flaws in the existing survey :
Breaking survey questions out onto separate pages for a less dense, more game-like experience.
Providing users with a clear sense of their progress through an animated progress bar
Developing a user-friendly contact form with enough fields to gather necessary information without overwhelming the user
Adding a clear Call to Action to the results page to encourage users to explore further offerings
Rewriting survey questions through a user experience lens to reduce cognitive load on users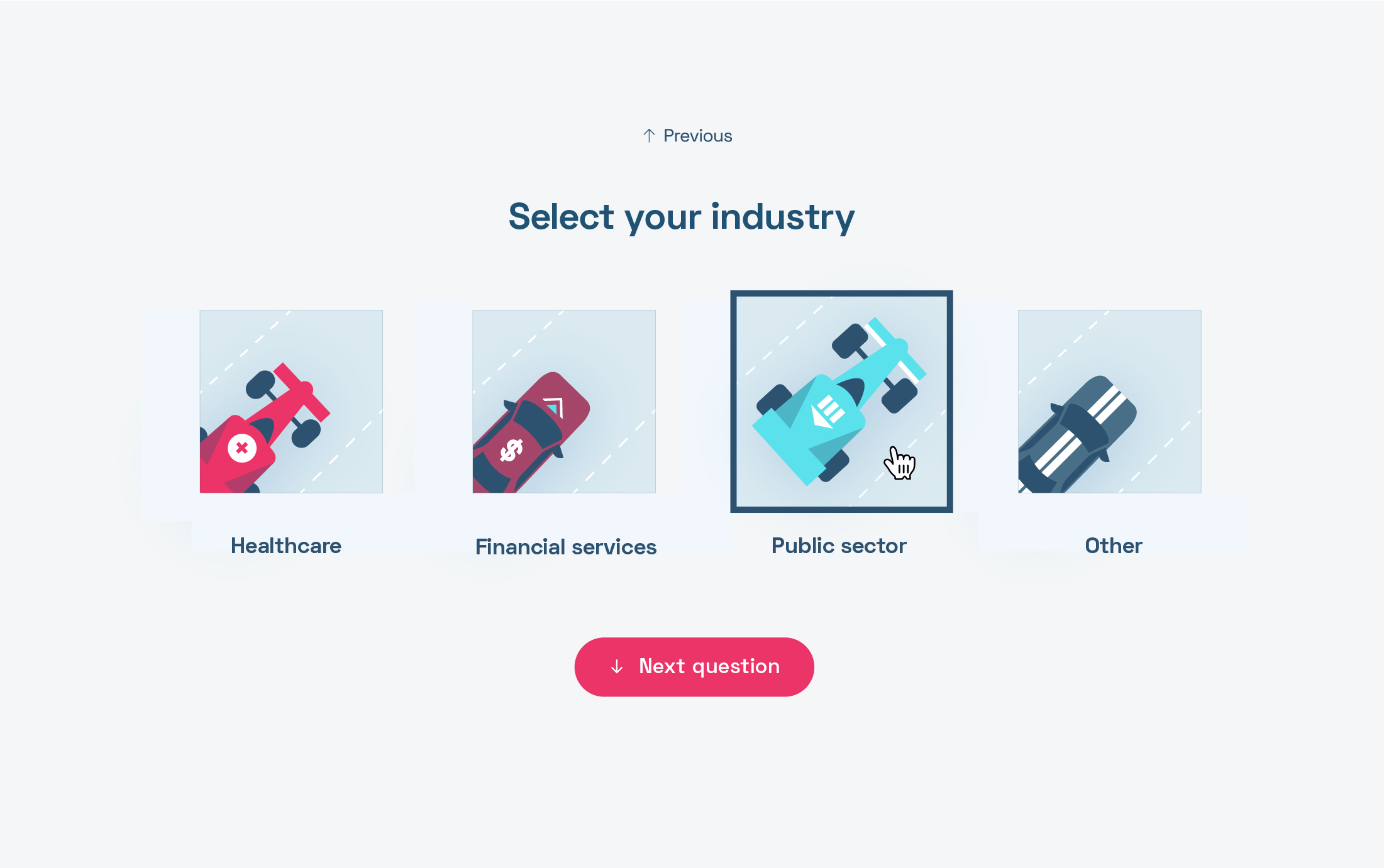 Gamification
Beyond enticing customers with business insights, we wanted to make the quiz itself a compelling experience that encouraged prospects to keep answering questions just because it was fun to do so.
Leaning into the theme of competition, we created an engaging, gamified interface that keeps people wanting to answer the next question.
Eye-catching animations are present throughout. Choosing your industry becomes an opportunity to choose your race car. A dynamic illustrated racetrack to the left of each question responds to user input by falling behind or speeding ahead of other racers.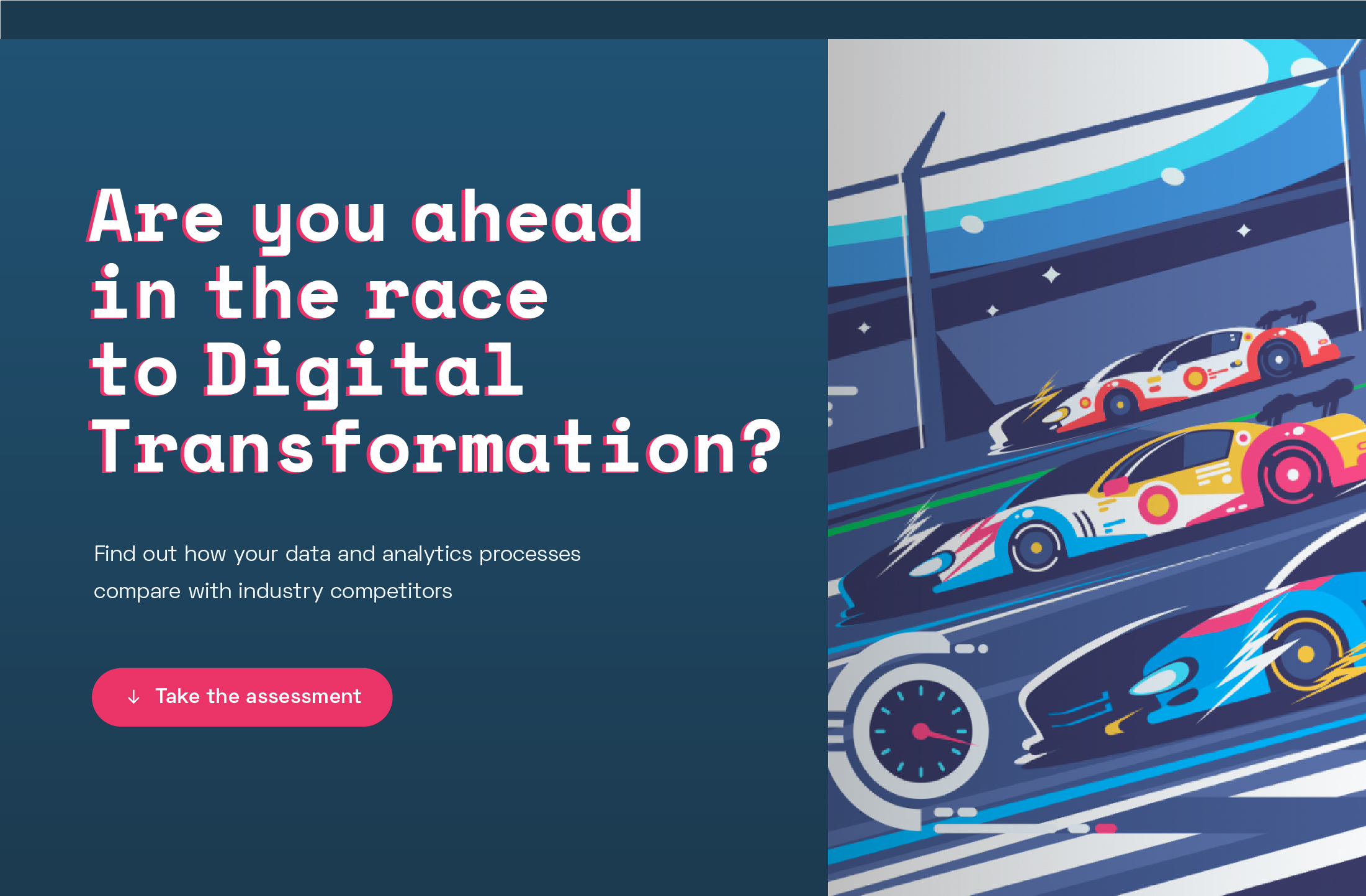 The Solution
The resulting experience is a literal Race to Digital Transformation, where users gain insight into how their Digital Transformation efforts stack up against industry competitors through the lens of a high-speed competition.
Users leave with tangible data points they can use to justifying prioritizing digital transformation efforts. The client leaves with valuable prospect leads to add to their sales pipeline.
---
Agency: Highwire PR
Client: Confidential
Design Lead: Sarah Dean