"Elevating" social media design for a legacy company
Global elevator and escalator manufacturing corporation Otis needed a robust social content program that would engage 300K+ followers. Working alongside a small team of Archetype social marketers, I codified social media design guidelines and created templates that would guide Otis' visual approach to social media.
In addition to designing Otis's Social Media Playbook and researching and writing the visual identity section, I supported the company with social campaign creative tailored to each of their priority channels.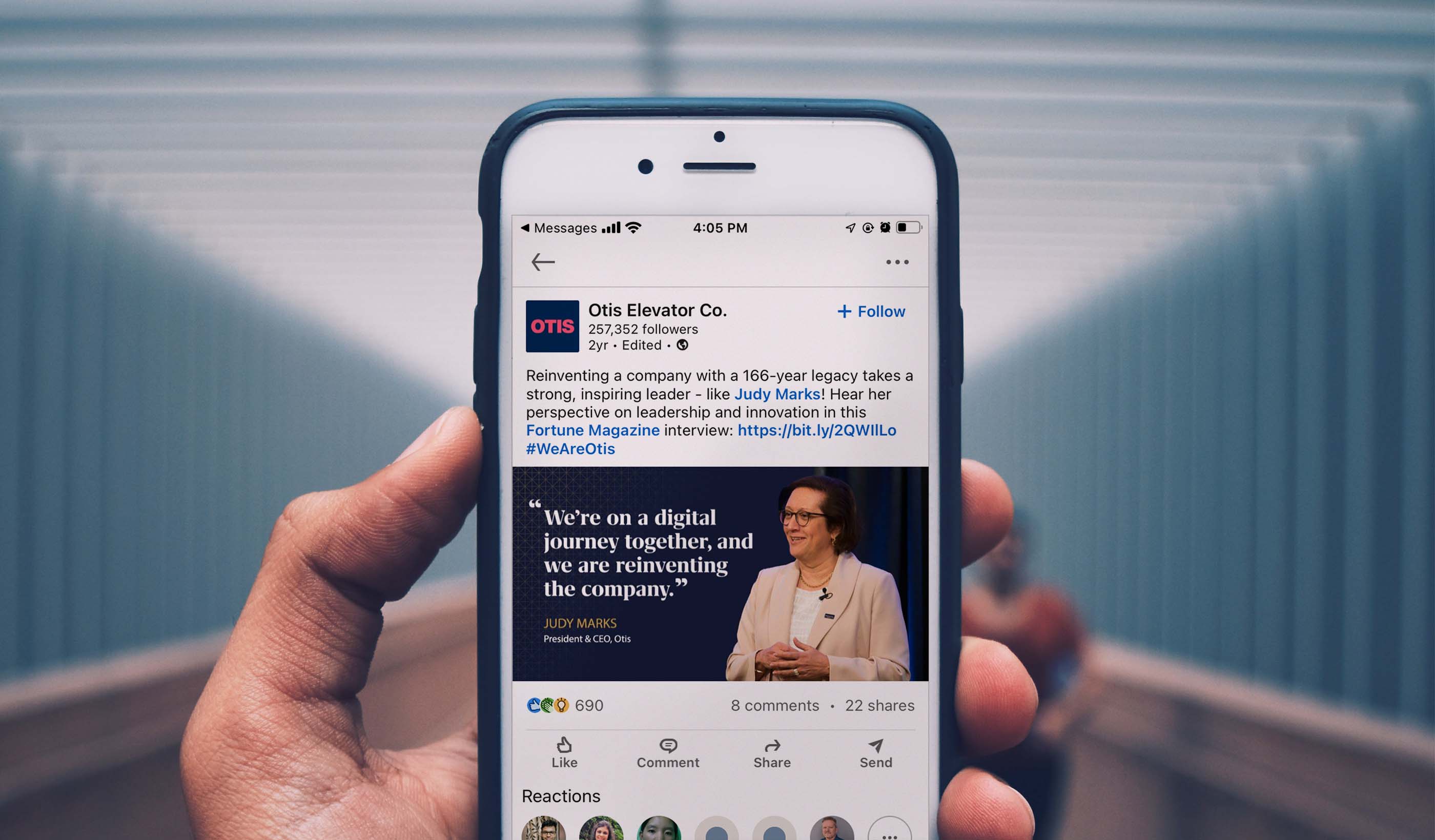 ---
The playbook
Otis' Social Media Playbook is a comprehensive guide that standardizes Otis' social media goals and channel strategies and outlines everything a digital marketer needs to know to produce consistent, goal-driven content. The 50-page document covers everything from target audiences, to hashtag and emoji use, to creative asset specs.
As the lead designer on the project, I owned production of the guide itself, using Otis' extensive visual brand system to create a table/diagram-heavy document that could clearly communicate our social strategy to Otis marketing leads.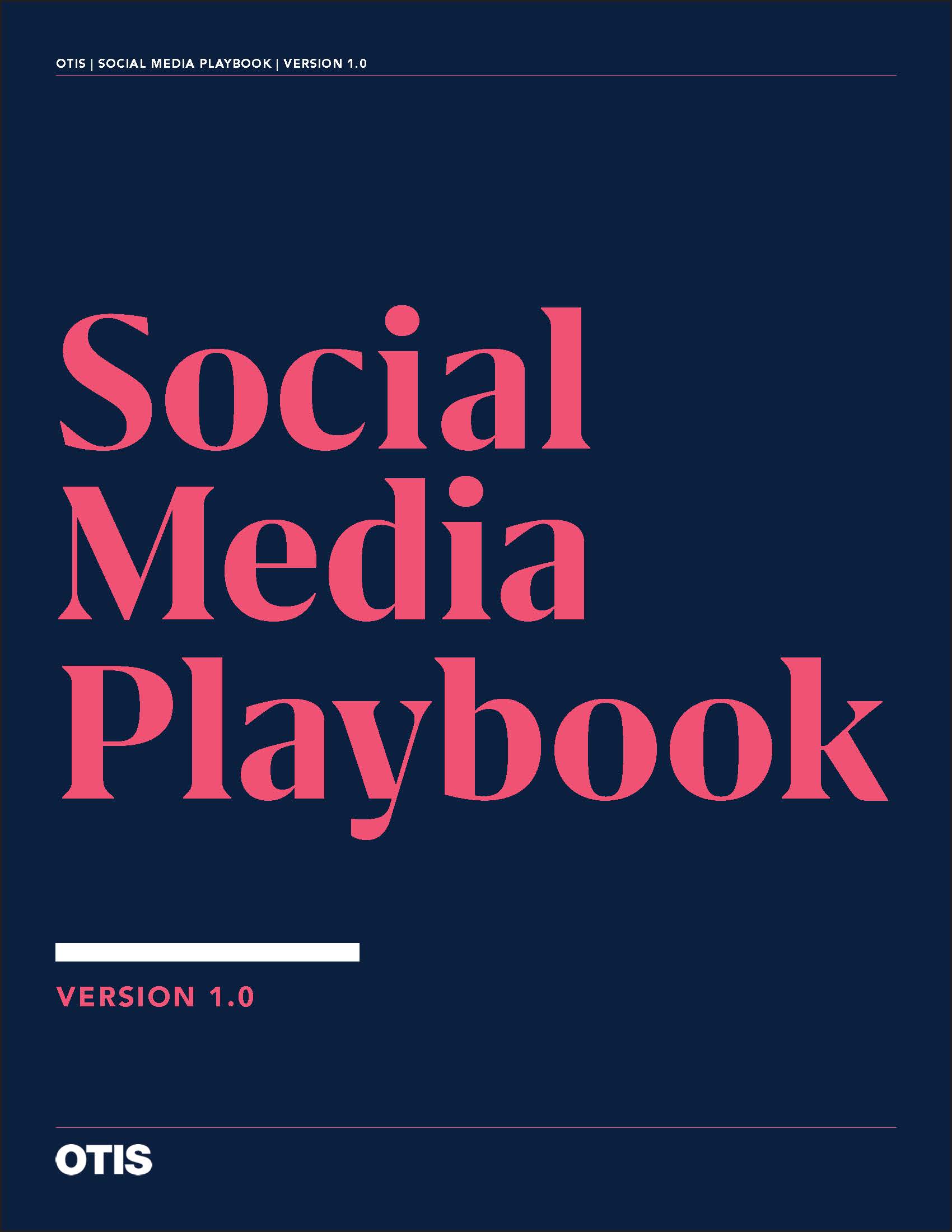 The visual identity chapter consists of overall social design guidelines tailored to Otis content and audiences, followed by channel specific design considerations and best-practice formats.
I strove to provide research-backed direction on which visual formats and styles resonate best on each social channel. For example, high-quality lifestyle photography works well on Instagram where it integrates with a follower's general feed, while followers tend to tune out overly-produced ads. On Twitter where average attention spans are lower, snappy informational GIFs tend to perform well, while LinkedIn is the best platform for long-form video content.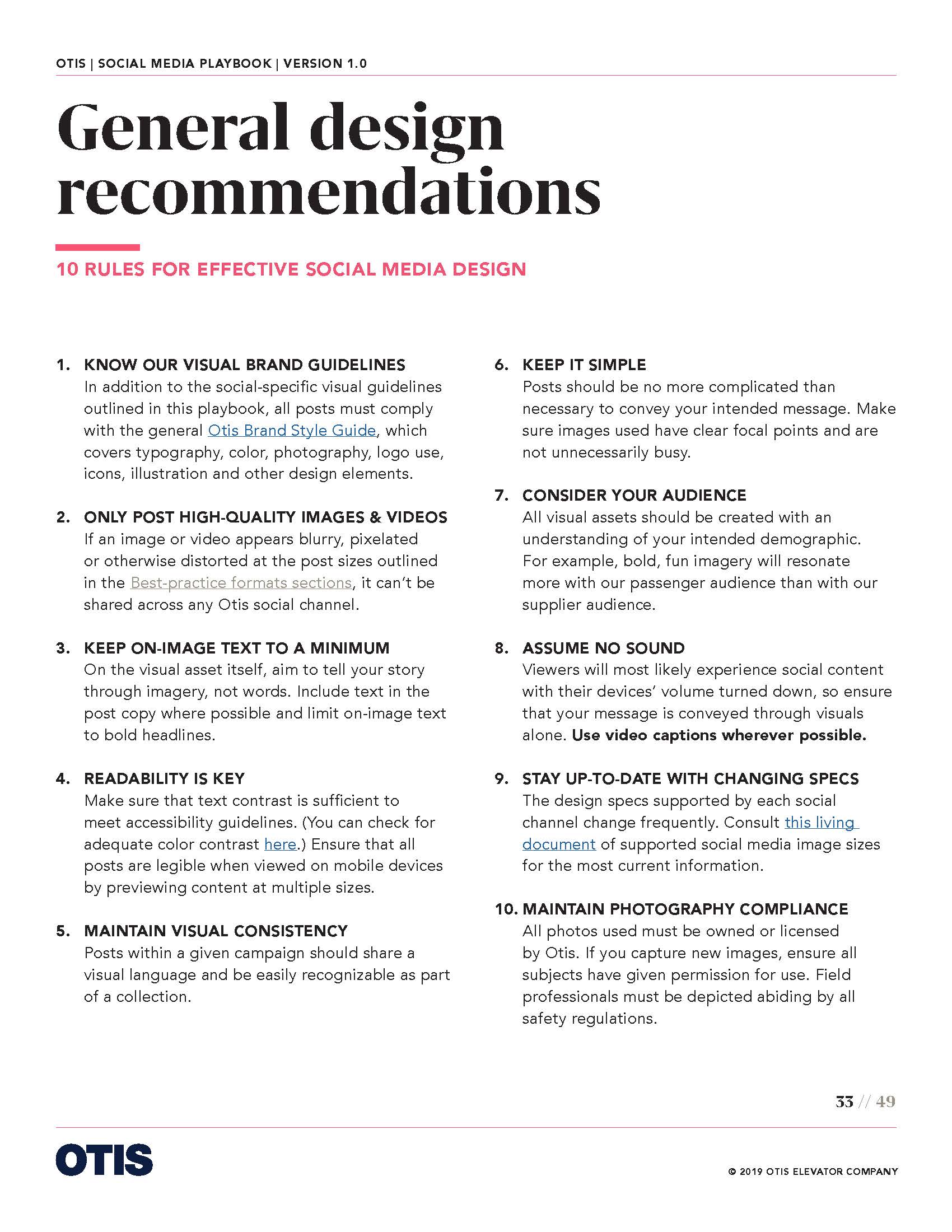 ---
Social templates
To promote consistency in asset creation, I developed a collection of social templates Otis marketers could leverage to meet recurring needs. The example below shows the redesign of a quote card post format, developed for use on LinkedIn where executive thought leadership is a key focus area.
With mobile readability a top priority, we encouraged reducing on-asset text to short, snappy quote excerpts that are easy to consume at small window sizes. I also advised enforcing a minimum pixel size for all photography used on social and standardizing the range of font styles and weights in rotation.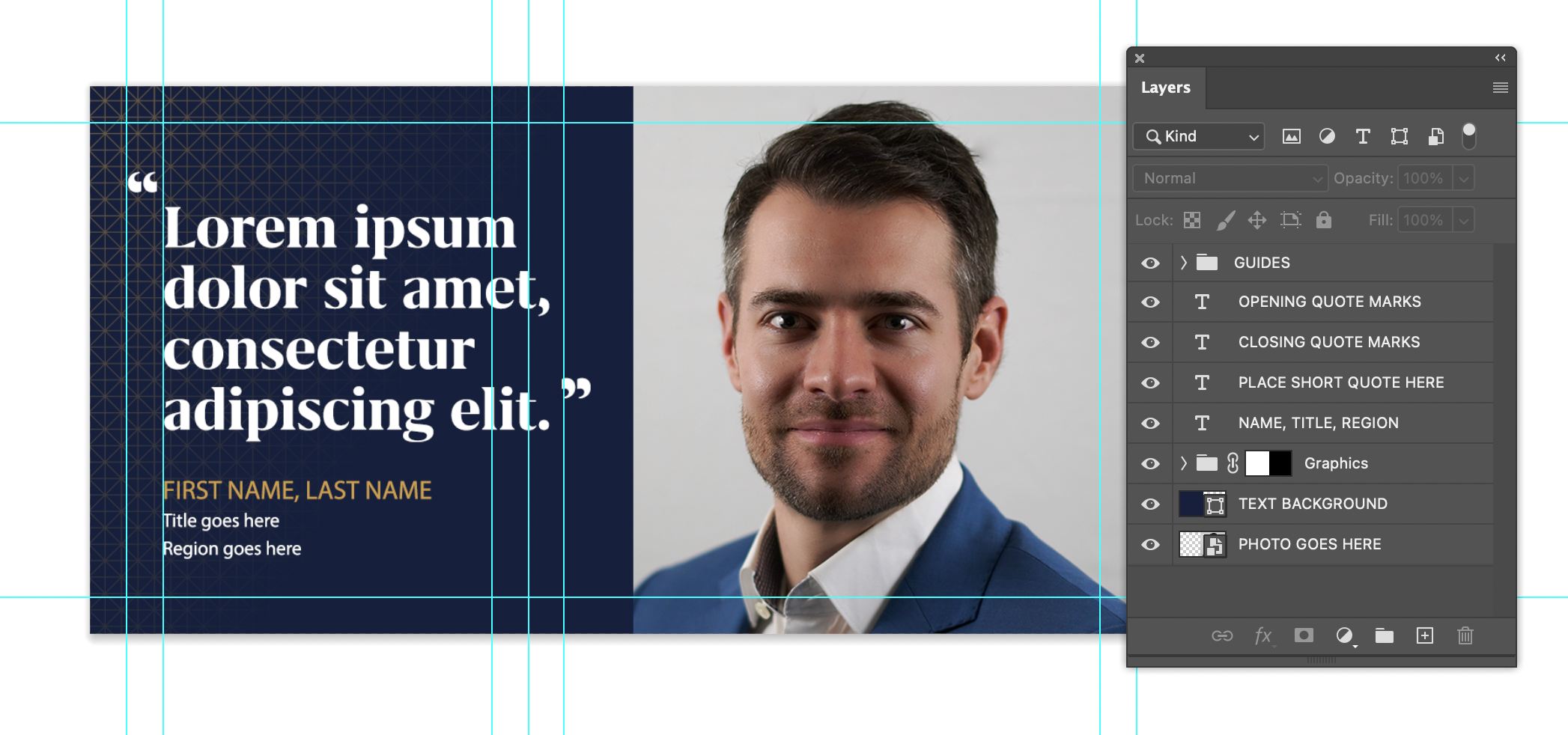 ---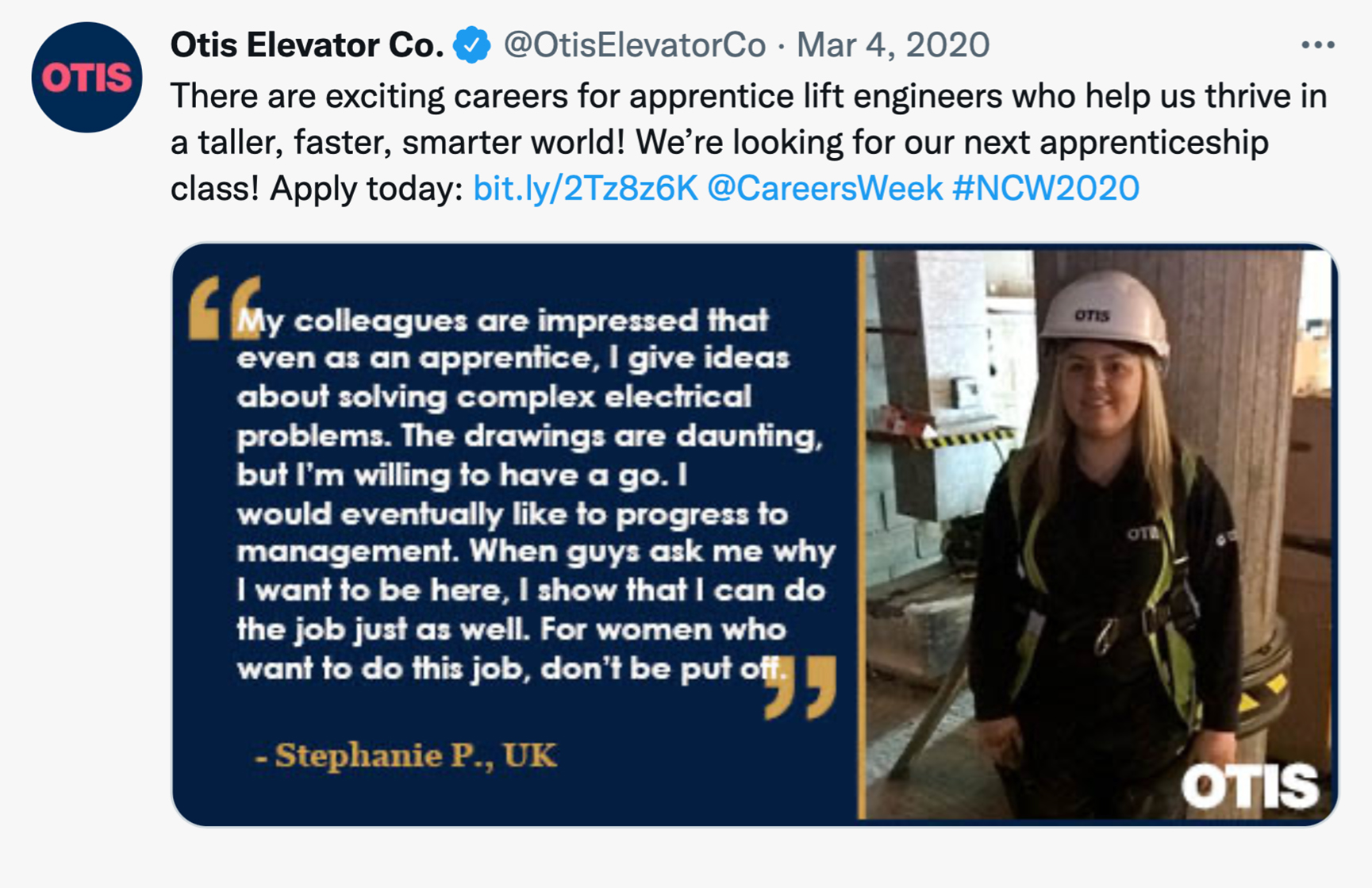 ---
Introducing motion
Otis social reporting indicated video assets had the highest engagement rates, so another top priority was incorporating more motion into Otis' social feeds. The following examples show four animated formats we developed and templatized to allow us to create dynamic social assets quickly and efficiently.
On LinkedIn, converting our new quote card template into an animated "audiogram" was an effective way to showcase longer quote excerpts without compromising text readability.
Otis has a comprehensive library of high-quality images, but a more limited video collection. Adding a subtle panning effect to static images allowed us to leverage existing brand assets for this Facebook safety campaign series, while implying upward motion.
Employees and prospective employees are a consistent priority audience across all social channels. The slideshow template on the left serves as a video alternative to sharing employee albums. On the right, this animated text-based template can be quickly repurposed to promote Otis participation in college fairs.
---
Instagram stories
As they began to explore the potential of investing more resources in Instagram content, Otis were keen to experiment with emerging story formats and popular template activations. Yet Otis followers skew male and middle-aged – not the demographic typically associated with Instagram platform fluency. Our challenge was to make engaging with Otis Instagram stories accessible to as wide an audience possible.
The example below shows an Instagram story activation that encourages followers to share the iconic buildings they have visited. We included step-by-step instructions on how to join in to maximize participation.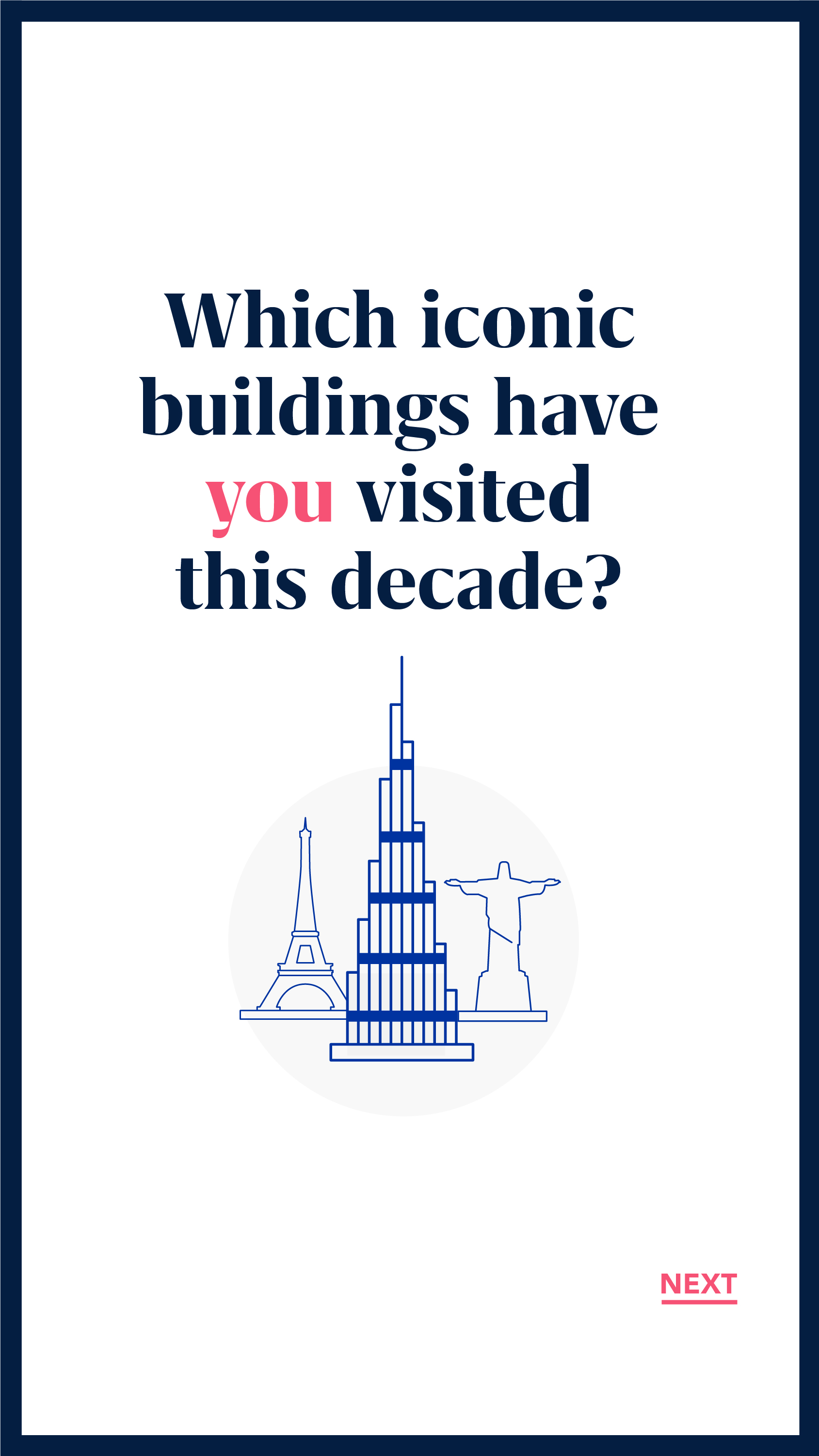 ---
Agency: Archetype
Client: Otis
Client/Project Lead: Allie MacPherson
Design Lead: Sarah Dean
Account Executive: Kalie Hudson
Account Manager: Jim Mignano
Paid Social Specialist: Peter White